Intelligent Contacts Named Most Promising Payment and Card Solution for 2017
PLANO, TX – Intelligent Contacts, a leader in hosted communication and payment solutions, was recently named one of the 20 Most Promising Payment & Card Providers for 2017 by CIOReview magazine.
After evaluating hundreds of companies, CIOReview chose Intelligent Contacts as one of its top picks for secure and innovative payment solutions.
"In today's cashless era, scores of payments and card solution providers are provisioning out-of-the-box technology to build numerous innovative payment methods," says Alena D'Souza of CIOReview. "As a direct result of technology advancements such as mobile payments for instant or real-time transactions, payment and card solutions are evolving fast and are becoming more secure."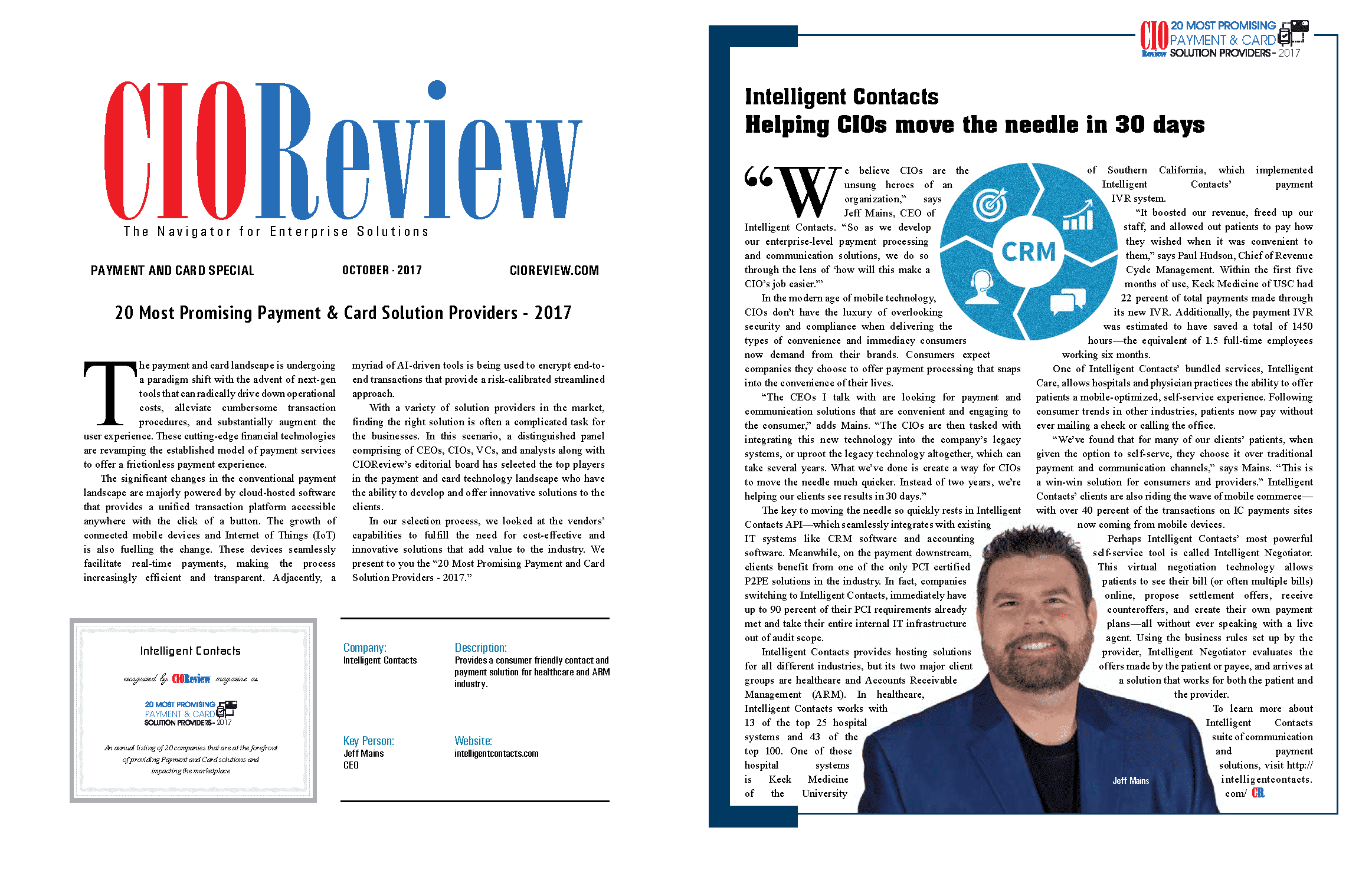 Intelligent Contacts, in partnership with Bluefin Payment Systems, offers its clients one of the only PCI-certified P2PE solutions on the market.
"There's a big difference between simply being PCI compliant and using a PCI-certified solution like ours," says Intelligent Contacts CEO Jeff Mains. "Our hardware and software abides by the strictest requirements to detect tampering and protect encryption keys. Clients using our card payment services are automatically compliant with 90% of PCI requirements.
CIOReview, whose readership includes senior IT decision makers and heads of IT, also recognized Intelligent Contacts for its innovation in design and mobile interface.
"Over 40 percent of the revenue our clients receive through our payment gateways come from mobile devices," added Mains. "It's amazing to see the impact our mobile enhancements have made to the collection and payment ratios of our clients."
Intelligent Contacts, a leading provider of hosted communication and payment solutions, offers a full suite of communication and payment tools inside one easily-integrated platform. Each of these services follows a pay-as-you-use model, and can be chosen individually or bundled together to maximize productivity and increase revenue.
Who are millennials and why should you care about their consumer preferences?
A single generation is revolutionizing sales. Social media, telvision, mobile devices, and the internet mean they enter the marketplace fully aware that everything and everyone around them is out to sell them something. And they're eager to buy.
Millennials are the single largest consumer segment in the market today, holding both massive buying power and unprecedented influence. According to a recent Nielson report, they spend $65 billion a year and influence over $1 trillion in total consumer spending.
Is your business prepared to capitalize on their enormous spend? Discover five business "must haves" to engaging the growing millennial mindset in this free resource guide.